Ho Mok Pla Reu Kai Reu Mu
(Steamed Curried Fish, Chicken, or Pork)
6 servings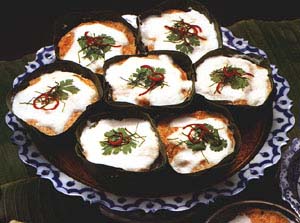 Referenced from the book "The Best of Thai Dishes" by Sisamon Kongpan
Ingredients for Spice Mixture
5 dried chilies, seeds removed and soaked in water
3 garlic bulbs
2 tbsp. finely sliced coriander root
5 pepper corns
1/2 tsp. Salt
1 tsp. shrimp paste
1 tsp. finely sliced krachai (if fish is used)
Other ingredients
400 grams of filleted fish, chicken or pork
2 cups coconut milk
1tsp rice flour
1 egg
3tbsp. shredded kaffir-lime leaves
1 finely sliced red chili
Preparation
1. Pound the spice mixture ingredients well in a mortar.
2. Cut the fish fillets into this slices; if the chicken is used, cut it into small pieces; if pork is used, chop it but not too finely.
3. Skin 3/4 cup coconut cream from the coconut milk, add rice flour, bring to a boil, remove from heat, and set aside for topping.
4. Stir 1 cup of coconut milk with the pounded spice mixture, add the fish or meat, the egg, the fish sauce, and then the remaining coconut milk a little at time. add 1/2 cup basil leaves, 1tbsp coriander greens, and 2 tsp. kaffir lime leaf and stir to mix in.
5. Place the remaining sweet basil leaves in the bottoms of custard cups, fill each cup with the spice mixture and steam for 15 minutes. Remove the cups from the steamer, top each one with some of the boiled coconut cream and a little coriander greens, kaffir lime leaf and sliced chili. Return to the steamer to steam for one minute, and then remove from the steamer. Shredded cabbage may be substituted for sweet basil leaves.